So you may be wondering why Brakes has taken over the majority of blogging responsibilities as of late- he's a control freak, he needed a hobby, he's stealing my thunder, I have succumbed to an unhealthy obsession.  Drop cloths.  As in painter's drop cloths.  As in oatmeal colored beauty with ebony flecks big-ass, heavy cheap canvas fabric used to protect floors when painting.  You can get them at Lowes for like 10 bucks a pop.   I buy them in bulk, but I am pretty sure you can buy one at a time too.  I wouldn't know.  Anyways.
The obsession began innocently enough.  When we moved in I could not get Pago's 30 year-old-likely-never-seen-the-inside-of-a-washer-drapes down fast enough.  Literally, our realtor was ripping them away as Pago pealed (I'm guessing he knew about the skunks and wanted to make haste before we realized we'd been conned) out of the driveway after the final walk through.  For awhile we made do with satin bed sheets stapled over all of the windows (why do we have 6 different satin sheet sets?  Wouldn't you like to know!)  but after awhile our "whore-house chic" look grew a bit stale (gross) and I was ready for a change.  Unfortunately this itch (to continue with the stale-whore-house theme) coincided with Brakes' tabulations of the budget.  After his sketchy number-crunching (pretty sure he secretly loved the satin sheets) he said there was no moula for new window treatments, or as I like to call them, curtain-scapes.  Sadly I packed my Restoration Hardware and Anthropologie catalogues away in my "someday box" and tried to squelch the vision of custom panels dancing in my head.
It kept me up at night.  I could not sleep from the glare of the alarm clock bouncing off the shiny polyester adorning my window.  I grew desperate.  After unsuccessfully trying to piece together a couple of nice wholesome cotton pillow cases in a faux- patchwork look and a failed goth-inspired moodboard (I may have been watching Vampire Diaries.  Don't judge.) which prominently featured a tin-foil valance, I grew desperate to solve this window covering conundrum!  I promised sexual favors to clip coupons and forgo wine Puffs if it meant I could buy some proper curtains!  In the end, Brakes and I reached a compromise: I could get new curtains but I would have to do it on a very slim-budget. 
Off to TJMaxx, Ross, JoAnns, and Ikea I went.  I scoured dozens of different fabrics and materials and I just could not find anything that made my heart skip… until I happened upon the drop-cloth aisle!  My mental computer raced as it tried to remember some of the blog posts I'd read about drop-cloth DIY.  I examined the color and realized it was just the rich cream that would perfectly complement the cool tones of our new paint job!  I started slow and gently put two drop-cloths in our basket.  Brakes  congratulated me on my ingenuity and self-control.  If he'd only known…
Now every window in the house is dressed in a different varietal of my drop-cloth mania and I am busily trying to figure out how to hot-glue together a slip-cover for our padded headboard (satin sheets and a padded headboard!  Do you feel uncomfortable yet?)  When I resurface from the heady cloud of creation, I'll try to post some pics!  But until then………….. Hellooooo, Gorgeous!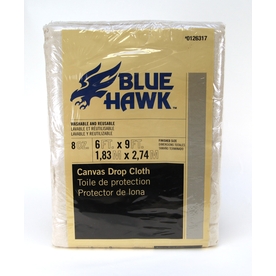 She makes my heart sing!